Nick Robinson Wins a Pair of Chemung Championships; Feature Wins to Zacharias, Chapman By Carol Houssock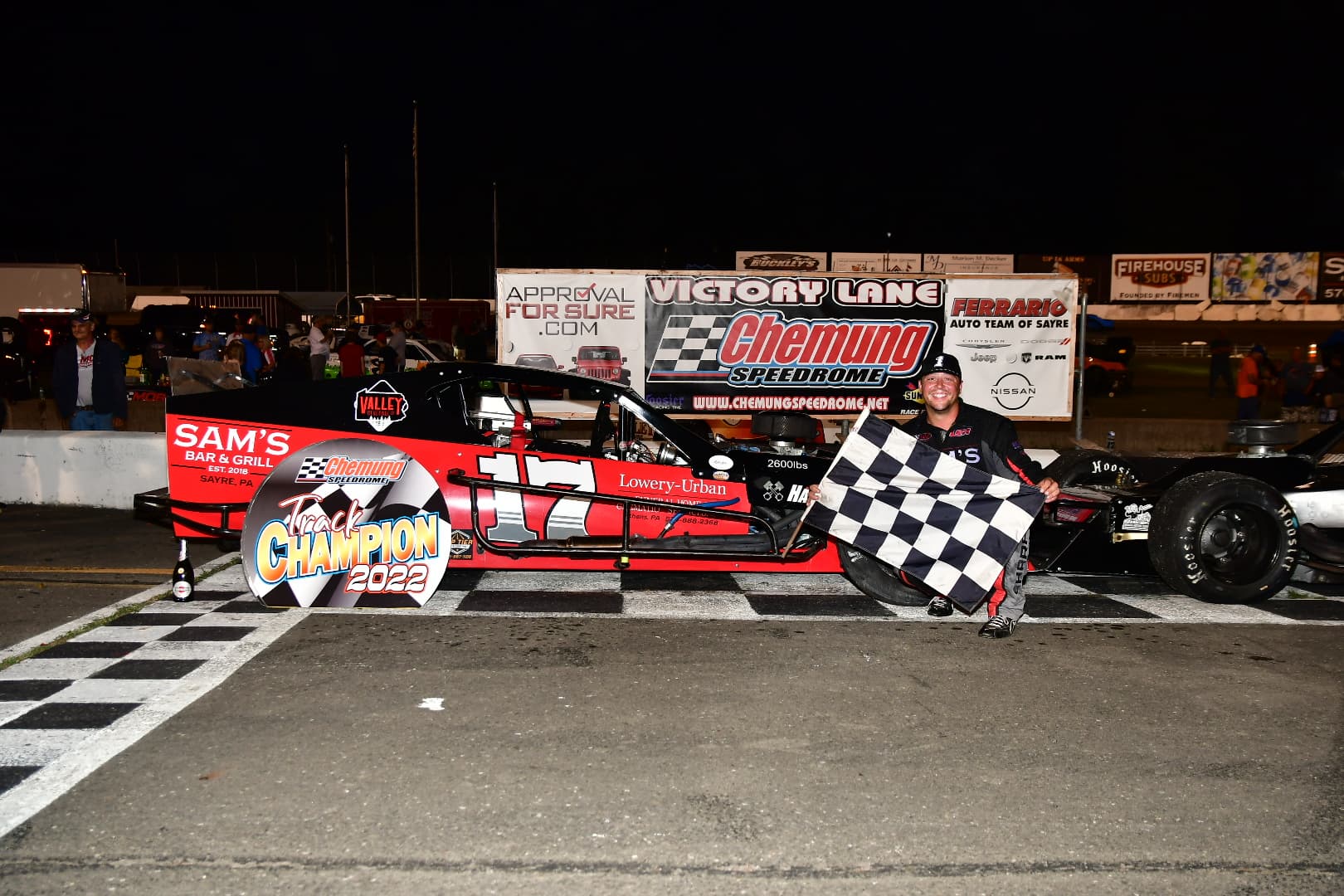 (Chemung, NY)  The regular 2022 season wrapped up at the Speedrome on Friday night, as both race winners and division champions celebrated in victory len. Three racers celebrated both, a win on the final race night and a division championship. Race winners on Flynn Energy night included Jimmy Zacharias (Sunoco Modifieds), Frank Chapman, Jr. (Insinger Performance Super Stocks), Tim Gullo (Marion Decker Agency Hobby Stocks), Nick Robinson (4 Cylinders), and both Kalysta DeMark (Outlaw) and Chase Sinsabaugh (Bandit) in the INEX Bandoleros. The track will remain idle until a special show on Saturday, September 17th.
For decades, Sharpsteen racers in the twin tiers have represented tough competition and dominance on both asphalt and dirt surfaces. Those characteristics were evident this season at Chemung, as family members won several features and they earned three of the five division championships. Lee Sharpsteen won the Sunoco Modified title over his brother, Charlie. Nick Robinson, whose mother is a Sharpsteen, made history by winning both the Insinger Performance Super Stock championship and the 4 Cylinder title. Other 2022 titles went to Josh Parker in the Marion Decker Agency Hobby Stocks, and both Kalysta DeMark (Outlaw) and Chase Sinsabaugh (Bandit) in the INEX Bandoleros.
Lee Sharpsteen and Zack Curren won the Sunoco Modified heats, which set up the starting lineup for their 35-lap feature. Trouble came on the opening lap when pole-sitter Charlie Sharpsteen spun in turn four. Lee led on the restart, but he was then involved in a wreck with Keith Youngs. Lee was done for the night. When Zack Curren was deemed the cause of that incident and told to start at the rear, he opted to park his car for the night. Those events handed the lead over to Jimmy Zacharias, who led from lap three on. The best battle in this one was for second, at one point involving C. Sharpsteen, Gary Noe and Bryce Bailey. Noeís car broke with two laps remaining, moving Evan Rygielski up to fourth and Jody Buckley fifth. Thatís how they would finish.
Jimmyís parents brought his Uncle RJ Zacharias, with them to watch the action from the infield. It was an emotional moment when, from his wheelchair, he held the checkered flag for his nephew. ìThereís more to life than racing. RJ was behind us for years and it's time for us to be behind him now,î he said. RJ continues to recover from aneurysms that first occurred a year ago. Lee Sharpsteen later pulled the Matt Jilson-owned MOB #17 into victory lane as well, celebrating his 2022 Sunoco Modified championship.
The Insinger Performance Super Stock title boiled down to a final 25-lap feature. It would go to either Nick Robinson, who led all season, or Jason Duke, Jr., who put together an impressive season and had the difference down to 31 points. Mike Nichols, Frank Chapman, Jr. and Charlie Sharpsteen won the heats. On the opening lap, Nichols broke and the field was reset. Sharpsteen led, with Chapman and Duke, Jr. right behind him. Following a restart, Chapman got around Sharpsteen, who had a nice gap behind him for third. Mark Taylorís flat put the field under caution nine laps in. Robinson found himself the victim of a caution just past the halfway point. He made a series of pit stops for wheel and tire issues, restarting last each time. What fans enjoyed most was the lively battle between Chapman, Jr. and his son, Frank III. While the elder Chapman pulled away, C. Sharpsteen was able to get around the younger Chapman for second. Robinson also made some late race moves that put him in the top five. ìAt this age, you donít know if youíll ever win again,î Frank Chapman, Jr. said in front of a mob of family and fans that greeted him in victory lane. His solid finish garnered Nick Robinson the 2022 Super Stock championship.
The trackís Hobby Stock division, sponsored by the Marion Decker Agency, has grown steadily since its inception a year ago. Josh Parker was looking to defend his title, and he succeeded. Ethan Rogers led the first handful of laps before Tim Gullo passed him for the lead. Terry Potrzebowski was on the move and up to second by lap seven. The gap between him and Gullo had begun to shrink when a spin by Rogers brought out the caution. Potrzebowski took the lead but soon lost it when Gullo reclaimed it with an inside move in turn four. He went on for the win, this time over Potrzebowski, Luke Nickles, Dave Decker and Doug DeKay. Tom Shaffer, Johnathan Gunderman and Gullo won the three heats. His sixth-place finish was enough for Josh Parker to lock up the 2022 championship.
In the 4 Cylinder division, Nick Robinsonís heat win took him to the final 20-lap feature with just seven points separating him from Zack Jaynes. Dustin Pryne led early before Jaynes took over on the third lap. The lead changed hands again, on lap six, when Robinson made what was his race-winning and championship-winning pass. For most of this one Matt Jenkins was a strong third. Pryne dove underneath him on the front stretch, made hard contact, and Jenkins was ok but done. Over the final laps Robinson stayed in front of Jaynes and earned a lot more than a another feature in. This win, over Jaynes, sealed the championship deal. Robinson celebrated his sweep and the title in victory lane. Earning a pair of championships puts Robinson in a league of his own.
It was also sweep time in the INEX Bandolero division. Outlaw Kalysta DeMark won the heat and the eight-lap feature. Michael Bast led early and had a nice advantage at the halfway point. With two laps remaining Joey Allowatt and Derrick Vogler got together in turn four and both cars were done for the night. DeMark, who restarted alongside Bast, waited until the last moment and passed him for the feature win. Bast finished second, ahead of Chase Sinsabaugh. As a Bandit, Sinsabaugh also parked in victory lane. Both he and Kalysta celebrated feature wins and their 2022 championships.  
Track management has added a special race on Saturday, September 17th. With big, post-season money up for grabs, the event will feature the Hobby Stocks (Tim Machuga Memorial), Super Stocks, 4 Cylinders and Bandoleros. This being a Saturday afternoon event, pits gates will open at 11AM, with grandstand and practice at 1 PM and racing a 2PM. General admission is $14 for adults, $12 for seniors, $5 for kids ages 6-11 and free for kids 5 and under.
For information on the final event or to help with event or lap sponsorship, log on to the trackís website: chemung-speedrome.com, ëlikeí us on Facebook: Chemung Speedrome ñ Racing at the Drome, or call Ray Hodge, Promoter, at 607-483-3468.
Of note:
Ann Potrzebowski won $450 from the 50/50. ìFinally,î she said when turning in her ticket.
Chemung native Brett Bodine was in attendance to cheer on the MOB team for their Sunoco Modified championship, and to support Bryce Bailey. Bailey is dating Brettís daughter. He mingled with fans, and at the end of the night joined longtime friend Frank Chapman, Jr. in victory lane.
Flynn Energy Championship Night results:
Sunoco Modifieds (35 laps): JIMMY ZACHARIAS, Charlie Sharpsteen, Bryce Bailey, Evan Rygielski, Jody Buckley, Gary Noe, Keith Youngs, Danielle Sharpsteen, Lee Sharpsteen, Zack Curren
Heats: L. Sharpsteen, Curren
2022 Champion: LEE SHARPSTEEN
Insinger Performance Super Stocks (25 Laps): FRANK CHAPMAN, JR., Charlie Sharpsteen, Frank Chapman III, Nick Robinson, Lee Sharpsteen, Jason Duke, Jr., Nick Bevacqua, Jason Duke, Sr., DJ Shaw, Derrick Tarbox, Bradley Mister, Mark Taylor, Randy Mathews, Gary Noe, Chad Lane, Mike Nichols, Brian DeMark
Heats: Nichols, Frank Chapman, Jr., C. Sharpsteen
2022 Champion: NICK ROBINSON
Marion Decker Agency Hobby Stocks (20 Laps): TIM GULLO, Terry Potrzebowski, Luke Nickles, Dave Decker, Doug DeKay, Josh Parker, Gary Taylor, Johnathan Gunderman, Kalysta DeMark, Chuck Nichols, Mike Lattimer, Cullen Sharpsteen, Ethan Roberts, Ben Perry, Tom Shaffer, Brian DeMark, Mike Ferris
Heats: Shaffer, Gunderman, Gullo
2022 Champion: JOSH PARKER
4 Cylinders (20 Laps): NICK ROBINSON, Zack Jaynes, Dustin Pruyne, Matt Jenkins, Peyton Shaw, Ricky Lane, Robert Decker, Jason Peck
Heat: Robinson
2022 Champion: NICK ROBINSON
Bandoleros (8 Laps): KALYSTA DEMARK (Outlaw), Michael Bast, Chase Sinsabaugh (Bandit), Derrick Vogler, Joey Allowatt
Heats: Bast
2022 Champions: KALYSTA DEMARK (Outlaw), CHASE SINSABAUGH (Bandit)
Photos by track photographer Clayton Vargeson: Picture 1 - Lee Sharpsteen earns 2022 Sunoco Modified championship; Pictures 2 and 3 - Nick Robinson earns a pair of 2022 championships