Chemung Speedrome Track & History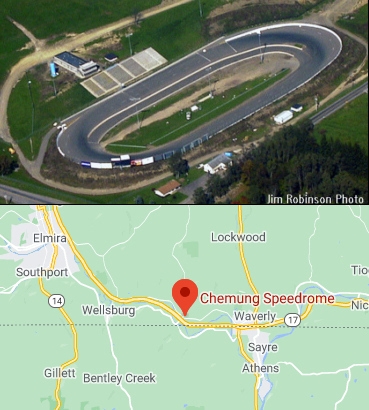 Track Location:
605 Wyncoop Creek Rd. Chemung N.Y. 14825

Surrounding Area:
12 miles East of Elmira, NY
45 miles West of Binghamton, NY
45 miles South East of Watkins Glen, NY

Track History:
The Chemung Speedrome was originally built as a ¼ mile dirt track in 1951 by the Bodine family of Chemung, NY it closed in 1978. After buying the track in 1985 the current owner started to rebuild the track in 1997 and in October of 2000 had its inaugural race event.
Events held at the Speedrome since it re-opened have included:

The NASCAR Weekly Racing Series
NASCAR Whelen Modified Tour
ISMA Super Modifieds
Race Of Champions Modified Tour
USAR Hooters Pro Cup Series
SST Modified Tour
Cup Lite Racing Series
USAC Ford Focus Midget Series
The Speedrome features all new TV-quality Musco lighting, a 3000 Seat Main Grandstand, a 28 stall paved pit lane and much more. The facility is situated on over 38 acres and is one of New York's finest 3/8 paved oval tracks.
Track Videographer: Thomas Video Productions