Zacharias Cousins, Jimmy and Garrett, Take Mod and Super Stock Wins at Chemung By Carol Houssock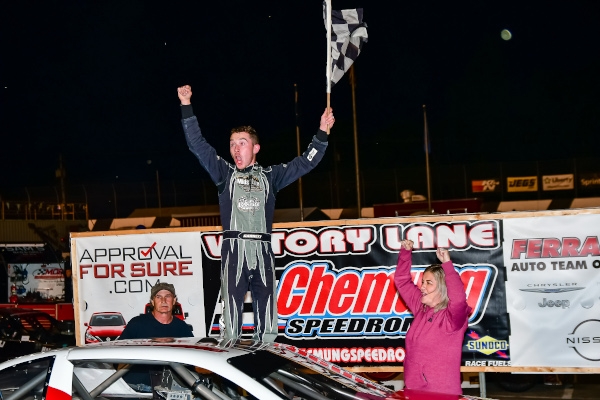 Race fans at the Speedrome were treated to six divisions of racing on Friday night. Buckley's Automotive sponsored the night, which included a special visit by the Small Block Super Modified traveling series. Winners included Jimmy Zacharias (Sunoco Modifieds), Garrett Zacharias (Insinger Performance Super Stocks), Tim Shaffer (Marion Decker Agency Hobby Stocks), Greg Moldt (4 Cylinders), Kalysta DeMark (Bandoleros), and Mike Bruce (Supers). The track is quiet this Friday but will return to action on Friday, July 22nd.
The 30-lap Sunoco Modified feature had a pair of former track champions and race winners this year battle it out for another win. Jimmy Zacharias and Zack Curren had earlier won their heats. Pat Judson and Charlie Sharpsteen made up row one for the start, with Sharpsteen powering around on the outside to take the early lead. A three-wide deal put Zacharias in second and point leader Lee Sharpsteen in third. Just three laps in, the first of four caution flags came out. On the restart Zacharias took the lead from C. Sharpsteen, who lost several positions. At the halfway point Zacharias had a nice lead, while L. Sharpsteen and Curren engaged in an exciting battle for second. Over the second half of the race Curren was able to take over second, leaving L. Sharpsteen and Bryce Bailey going for third. While the gap between Zacharias and Curren narrowed just a bit, it was another win for Jimmy Z, followed to the line by Curren, L. Sharpsteen, Bailey and C. Sharpsteen. "This car is great and it's so special to win with my Uncle RJ here. I have a lot of people to thank for this," he told the crowd.
DJ Shaw and Garrett Zacharias got things going in the Insinger Performance Super Stocks as winners of the two heat races. Joey Bevacqua and Shaw had front row seats for the start of their 25-lap feature, with Bevacqua leading lap one and Shaw lap two. Zacharias worked the traffic beautifully, from seventh to a battle for fourth and then to second. Nick Robinson, running third, brought out the first caution with a cut tire. A lap later both Frank Chapman and Shaw slowed with issues. Zacharias maintained the lead and, after the final caution, had Jason Duke, Jr. in pursuit of the top spot. It was then Robinson's time to work the traffic, which he did over the last six laps. At the checkered it was Garrett Zacharias picking up another win, this one over Robinson, Duke, Jim House, and Bevacqua. While his father cheered him on from the suite, the top four cars had to go to the tech barn, so he did not see his son parked in victory lane. But he knew who had just won.
It was sweep time for Tom Shaffer in the growing Marion Decker Agency Hobby Stock division. Winner of heat three, he started their 20-lap feature from the pole and never surrendered that position. The race itself was slowed by five caution periods, but on each restart he was up to the challenge and kept the others behind him. Former feature winner Doug Dekay stayed with Shaffer the second half of the race but never mustered up enough to get around him. Jeremy Potrzebowski, making a return to Chemung in a car built over the winner, lost the grip in turn two while running second and had to work his way back to the front. He got as far as second in an impressive run. Problems for points leaders Josh Parker and Randy Mathews were good news for Luke Nickels, whose fourth-place finish tightened up the championship battle.
Defending 4 Cylinder track champ, Greg Moldt, returned to a place he has been many times – victory lane at he Speedrome. Moldt made just his second appearance in a 20-lap feature this year, but it was classic Greg at work. A three-wide move in the opening lap moved him from fourth to first. The bulk of this one was a battle between him and heat winner Zack Jaynes. The only caution came when Peyton Shaw spun. Over the remaining laps it became a three-man chase as Nick Robinson joined the duo. Robinson had been undefeated this year but had to settle for third behind Moldt and Jaynes.
The field was light in the INEX Bandolero division and made lighter when two cars were unable to start the 10-lap feature. Heat winner Kalysta DeMark took off from her pole position starting spot and led the entire distance. Devin Gullo ran second while young Dallas Harbst continues to improve with track time. DeMark padded her points lead as an Outlaw with her win. With Bandit points leader Chase Sinsabaugh going for home runs in baseball that night, Gullo closed up the gap in their championship battle.
The Small Block Super Championship Series showed up with a dozen 450 HP cars, and Chemung fans appreciated their efforts. Heat winners Dan Kapuscinski and Mike Bruce adapted quickly to the track, none of whom run on before Friday's practice sessions. Bruce started their 30-lap feature from the outside of row one, but he got around Noah Ratcliff for the lead. The race was slowed by three caution periods, but this one boiled down to a three-car battle among Bruce, Kapuscinski and Ratcliff. Bruce, with his Chemung sweep, spoke highly of the track and how much he enjoyed the clean racing up front for the win. Race fans responded with loud applause when asked if they would like to see them return. Their race teams responded the same way.
Chemung is idle this Friday but rolls back into action on Friday, July 22nd. The Marion Decker Agency returns to sponsor a full five-division program plus a Hobby Stock Powder Puff, something the track has not included for several years. Pit gates open at 4 PM, grandstand gate at 5, practice at 6 and racing at 7. Admission is $14 for adults, $5 for kids ages 6-12 and free for kids 5 and under.
For information, log on to the track's website: chemung-speedrome.com, 'like' us on Facebook: Chemung Speedrome – Racing at the Drome, or call Ray Hodge, Promoter, at 607-483-3468.
Of note:
RJ Zacharias, who suffered multiple aneurysms in the fall of 2021, attended his first race and everyone was happy to see him. Thanks to his special friends he was able to visit the pit area, attend the drivers meeting, and catch all the racing action from his wheelchair in a suite. RJ smiled and gave thumbs-up signs when his son, Garrett, and nephew, Jimmy, won their features.
Fans and race teams witnessed a different kind of horsepower during the opening ceremonies. Serenity Clark-Conklin rode her horse around the track while carrying an American flag as Beth Bailey sang the anthem.
When the lights went out on Friday night, no one had claimed the 50/50. On July 22nd, if still unclaimed, the winner's share will start at $665. The winning ticket is posted on the track's Facebook page.
Buckley's Automotive Night results:
Sunoco Modifieds (35 laps): JIMMY ZACHARIAS, Zack Curren, Lee Sharpsteen, Bryce Bailey, Charlie Sharpsteen, Jody Buckley, Damon Frutchey, Danielle Sharpsteen, Pat Judson
Heats: Zacharias, Curren
Insinger Performance Super Stocks (25 Laps): GARRETT ZACHARIAS, Nick Robinson, Jason Duke, Jr., Jim House, Joey Bevacqua, Jason Duke, Sr., Seth Zacharias, Frank Chapman, Frank Chapman, Jr., Aaron Cornell, Derrick Tarbox, Mark Taylor, Bradley Mister, DJ Shaw, Dennis Beardslee, JP Harbst (DNS)
Heats: Shaw, G. Zacharias
Marion Decker Agency Hobby Stocks (20 Laps): TOM SHAFFER, Doug Dekay, Jeremy Potrzebowski, Luke Nickels, Kalysta DeMark, Brian DeMark, Mike Lattimer, Tyler Harbst, Gary Taylor, George Nichols, Jr., Randy Mathews, Josh Parker, Dave Machuga, Chuck Nichols, Ethan Roberts, Ben Perry, Dave Decker
Heats: Mathews, B. DeMark, Shaffer
4 Cylinders (20 Laps): GREG MOLDT, Zack Jaynes, Nick Robinson, Dustin Pruyne, Ricky Lane, Jason Peck, Peyton Shaw, Matt Jenkins
Heat: Jaynes
Bandoleros (10 Laps): KALYSTA DEMARK (Outlaw), Devin Gullo (Bandit), Dallas Harbst, Reese Faulisi (DNS), Joey Allowatt (DNS)
Heat: DeMark
Small Block Super Modifieds (30 Laps): MIKE BRUCE, Dan Kapuscinski, Noah Ratcliff, Jude Parker, Greg O'Connor, Tim Proud, Rob Wirth, Tony Pisa, Mark Denny Jr, AJ Larkin, DJ Shuman, Drew Pascuzzi
Heats: Kapuscinski, Bruce