Tony Hanbury Nabs Race #2 in Buckley's Automotive B Mod Challenge at Chemung by Carol Houssock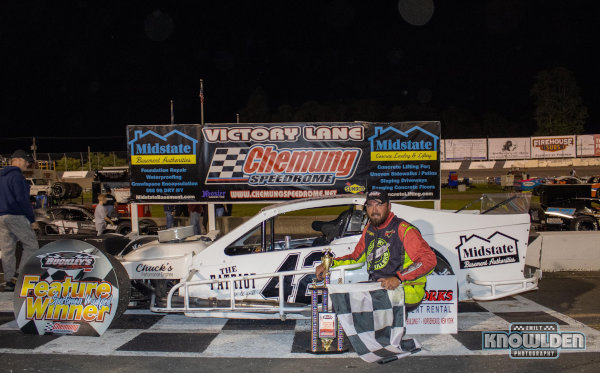 (June 13th 2021 Chemung, NY)
On a night dedicated to Veterans, Chemung Speedrome welcomed some new faces to victory lane to celebrate career-first wins. Tyler Harbst in the Marion Decker Agency Hobby Stocks and Devin Gullo, winner in the INEX Bandolero's Bandit age group, picked up popular wins and experienced the thrill and noise from the Speedrome's appreciative fans. Other winners on Skyworks Equipment Rental night included Tony Hanbury, who claimed race #2 in the Buckley's Automotive B Mod Challenge, Garrett Zacharias (Insinger Performance Super Stocks), Greg Moldt (4 Cylinders), and Derrick Vogler (INEX Bandoleros Outlaw age group).
The Sunoco Modifieds competed in the second of four 40-lap races in the Buckley's Automotive B Mod Challenge. Drivers earn points for the series, not the regular track points, and after the fourth race they will crown a champion. Coming into the night Zach Knowlden, winner of race one, and Tony Hanbury were tied for the point lead. Knowlden and TJ Potrzebowski won the two heats and a drawing among qualifiers put Teddy Bowen on the pole and Hanbury alongside on the front row. A nice inside move by Potrzebowski gave him the lead. When Bryan Sherwood and Pat Judson got together on the turn one access road, the field went under the only caution period. Hanbury got the lead, with Knowlden, Potrzebowski and Bowen making up a four-car breakaway. By lap 10 Hanbury was clearly in command, leaving Knowlden and TJ in a battle for second. As the laps clicked off, Knowlden widen the gap between himself and Potrzebowski but Hanbury had no one around him and he padded his lead. He got the win, his second in a row but first in this series, over Knowlden, Potrzebowski, Bowen and Sherwood. "I got lucky on the start with the 4 and 72. I knew the 4 (Knowlden) was there  but I didn't know how close he was," Hanbury said from the Midstate Basement Authorities Victory Lane.
The 25-lap Insinger Performance Super Stock feature boiled down to a great battle between a young driver and a longtime veteran campaigner. Garrett Zacharias outpowered Tim Gullo and held on for his third win this year. Cameron Nichols led the way off turn two on the opening lap but Zacharias got around him and led lap one, the first of 25 he would lead on this night. Nichols stayed with him until the latter was passed by Gullo. The first of three cautions came out when Frank Petroski and Lee Sharpsteen got together, and both restarted at the rear. A lap later Nick Robinson spun in turn one, while two laps later some of the same players in the first two cautions got together and the third cautions flag came out. Twenty-one laps remained, and over those laps Zacharias kept Gullo behind him. The gap between them widened but then shrunk as the laps wound down. "I had a lot of fun especially running side by side with Cameron. That's the way it should be, and I'm moving on," he said in reference to some rough driving the week prior. Gullo, Nichols, Sharpsteen and Robinson all finished in the top five.
The track's 4 Cylinder division ran another caution-free 20-lap feature, won this time by Greg Moldt. "I have the right transmission in there now and I have to thank everyone who helped me this week," he said from victory lane. Moldt led all 20 laps while being pursued by his teammate Zack Jaynes. The best battle in this one was for third, between teammates Dustin Pruyne and Joey Bevacqua. At the halfway point Bevacqua found his way around Pruyne and was up to third. The field started to lap cars over the final five laps but nothing fazed Moldt, who picked up his second win this year and a sweep at that. Jaynes finished second, with Bevacqua, heat winner Monica Robinson and Pruyne in the top five.
Tyler Harbst capitalized on a pivotal moment in the Marion Decker Hobby Stock class. Josh Parker, a three-time feature winner and heat winner Friday night, led early but was pursued by two-time winner Chuck Nichols. When Nichols turned him just short of the halfway point in the 20-lap feature, the front row for the restart consisted of Harbst and Dave Decker. Harbst led while Nichols worked his way back up to second until a huge puff of smoke poured from the Nichols machine and his night was over. Harbst then had to hold off Parker and he did to score a career-first win. "That was a tough one. I thought I was going around a couple times but I saved it," he said. Parker was second, followed by Genevieve Yamelski and Decker.
Devin Gullo made tremendous improvement in handling his INEX Bandolero and he proved it by winning their 10-lap feature in the Bandit age group. While Derrick Vogler solidified his lead in the points with his fifth win this season, Gullo pretty much stole the show by leading early on and showing strength. Just two cautions slowed the action. The last restart came with six to go. The overall win went to Vogler (Outlaw), followed by Gullo, Justin Teresak, and heat winners Chase Sinsabaugh and Michael Sinagra.
This Friday night Chemung welcomes the New York Super Stock Series for their first of two appearances at the track this year. The NYSS will run a 50-lap feature and are joined by the Insinger Sunoco Modifieds (40 laps), 4 Cylinders (20 laps), the Marion Decker Agency Hobby Stocks (20 laps) and the INEX Bandoleros (10 laps). Pit gates open at 4 PM, grandstand gate at 5, practice at 6 and racing at 7. Admission is $13 for adults, $10 for seniors, $5 for kids ages 6-12 and free for kids 5 and under.
For information, log on to the track's website: chemung-speedrome.com, 'like' us on Facebook: Chemung Speedrome – Racing at the Drome, or call Ray Hodge, Promoter, at 607-483-3468.
The Valley Color Guard led the opening ceremonies, which also included the introduction of several former service men and women in victory lane. Veterans were admitted free on their special night.
The 50/50 winner left with $621 in winnings.
Skyworks Equipment Rental Night Results:
Sunoco Modifieds
(Buckley's Automotive B-Mod Challenge, Race #2, 40 Laps):  TONY HANBURY, Zach Knowlden, TJ Potrzebowski, Teddy Bowen, Bryan Sherwood, Keith Youngs, Gunnar Zeiner, Bill Chandler, Jr., Charlie Sharpsteen, Pat Judson, Zack Curren (DNS)
Heats: Potrzebowski Knowlden
Insinger Performance Super Stocks

(25 Laps):  GARRETT ZACHARIAS, Tim Gullo, Cameron Nichols, Lee Sharpsteen, Nick Robinson, Frank Petroski, Jim Yamelski, DJ Shaw, Aaron Cornell, Jason Duke, Sr., Jason Duke, Jr.
Heats: Zacharias, Robinson
4 Cylinders

(20 Laps):  GREG MOLDT, Zack Jaynes, Joey Bevacqua, Monica Robinson, Dustin Pruyne, Jason Peck, Ricky Lane, Matt Jenkins, Mike Ferris
Marion Decker Hobby Stocks

(20 Laps):   TYLER HARBST, Josh Parker, Genevieve Yamelski, Dave Decker, Chuck Nichols, Luke Nickles
INEX Bandoleros

(10 Laps):  DERRICK VOGLER, Devin Gullo, Justin Teresak, Chase Sinsabaugh, Michael Sinagra, Cullen Sharpsteen, Michael Bast, Kalysta DeMark
Heats: Sinsabaugh, Teresak
Photos by Emily Knowlden:
1) Tony Hanbury wins race #2 in the Buckley's Automotive B Mod Challenge
2) Tony Hanbury racing hard with Zach Knowlden
3) Tyler Harbst picks up a career-first win in the Hobby Stock division