Lightning Hanbury and Smokey Zacharias - Top Champions at Chemung by Carol Houssoc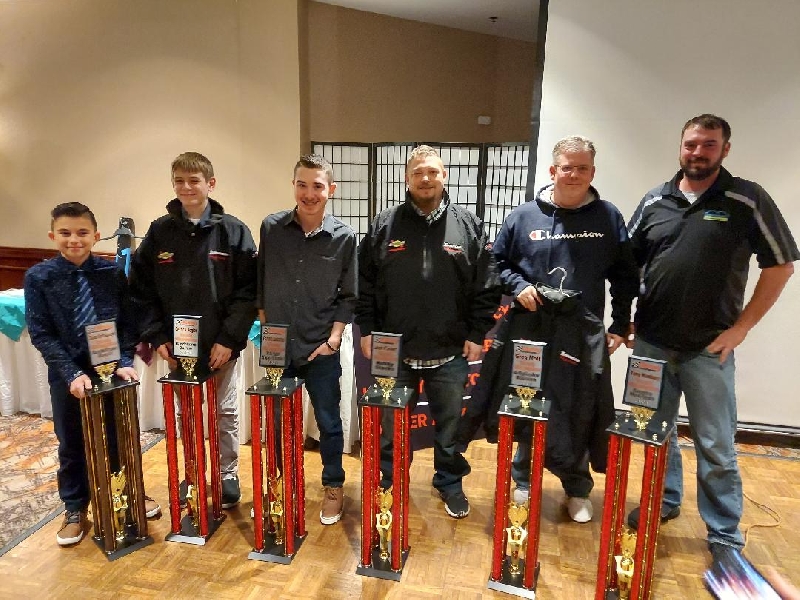 Chemung Speedrome's 2021 banquet will be remembered for its humorous and light-hearted beginning, along with two emotional slide shows dedicated to a pair of track champions. A capacity crowd celebrated many special moments at the Best Western Grand Victoria Inn in Sayre, PA.
  Tony Hanbury returned to Chemung in pursuit of a championship, and he ended up with a pair of them. Hanbury, who led all drivers in the division with 7 feature wins, won the 4-race Buckley's Automotive Challenge Series as well as the overall track championship. Hanbury, who track announcer Carol Houssock nicknamed "Lightning" 20 years ago, proved that lightning can strike twice when he clutched both championship trophies. Attendees watched a moving tribute to Tony and his late father, Bob, who had been such a vital part of his racing career prior to his death several years ago. Hanbury thanked his entire team and poked some fun at a few track officials during his speech.
Matt Jilson, owner of the MOB #17 Sunoco Modified, received the Hard Luck Award for his struggles, mechanical and otherwise, this past year.
  On his pre-season bio sheet Garrett Zacharias stated his 2021 goal was to win five or more Super Stock features and to finish first in championship points. At season's end, Zacharias led the division with eight feature wins and earned his first-ever title in a Super Stock. He previously had three consecutive championships in a Bandolero and earned the nickname "Smokey" while competing as an Outlaw against the Bandits in that division.
For the first five races of the season, he competed against his father, who eventually parked then sold his car to concentrate on his son. Garrett had two motor failures in the first four races, but each time he bounced back and won the following week thanks to the hard work and investment made by chief wrench Tommy Cornell.  Garrett's father, RJ, suffered severe injuries from multiple aneurysms and is currently fighting to recover much of what he lost. Garrett's emotional slide show, to the music of Harry Chapin's "Cat's in the Cradle" featured pictures dating back to his premature birth and open-heart surgery through his 12 years of increasingly more difficult racing. It ended, as did the season, with a heart-tugging hug with his father upon winning both the final race and the title. He spoke of his father, family, sponsors, and others who helped make the season the magical one it was.
Three other Super Stock drivers picked up special awards, including Rookie of the Year Cameron Nichols, Brian DeMark for Best Appearing Car, and Derrick Tarbox for his Determination to run and support the track on a very limited budget. Tommy Cornell was named the track's Mechanic of the Year.
  Greg Moldt became a two-time champion in the 4 Cylinder division. The 2019 champion led the division with eight feature wins. He thanked his daughter, Emily, for standing by his side along with others who work hard to keep his #51 stout and competitive.
Josh Parker had never raced on asphalt, but on opening night he said from victory lane that the track was nearby and he wanted to try something different. His six wins in the Marion Decker Hobby Stock division was tops among his competitors and took him from his dirt roots to an asphalt championship. Dave Decker took home the track's Hard Charger award. After finishing second numerous times, he finally charged to victory in mid-August.
Derrick Vogler, competing as an Outlaw, picked up 10 wins in the INEX Bandolero division, including a string of seven in a row. The long haul from Webster, NY was well worth it for the champ. Chase Sinsabaugh, who lives nearby, won the Bandit championship. His father, Jerry Sinsabaugh, Jr., won the track's coveted Sportsmanship Award for his help with all the youngsters in competition.
Track promoter, Ray Hodge, welcomed everyone in attendance and dedicated the banquet to RJ Zacharias. He then gave special thanks to the track's sponsors and employees, many of whom were in attendance. He and his wife, Ellen, offered us a lighthearted opening for the festivities. Now a trademark, Hodge engaged the crowd when showed a series of unique photos, to which he added clever captions.
Emcee and track announcer Carol Houssock highlighted many of the special moments everyone experienced at the Speedrome in 2021, including the tribute to veterans and memorial races for several friends of the Speedrome who are no longer with us.
.
Race teams and fans are encouraged to watch for the 2022 schedule and other news on the track's website www.chemung-speedrome.com and on the official Facebook page Chemung Speedrome - Racing at the Drome'.
Anyone having questions regarding the schedule, rule changes, or track operations can call Ray Hodge at 607-483-3468.
Pictured are the 2021 track champions, left to right: Chase Sinsabaugh (Bandolero Bandit), Derrick Vogler (Bandolero Outlaw), Garrett Zacharias (Super Stock), Josh Parker (Hobby Stock), Greg Moldt (4 Cylinder) and Tony Hanbury (Sunoco Modified).  Carol Houssock photo